Petrolimex develops cashless payment services
In the past few years, especially when the Covid-19 epidemic broke out, non-cash payment activities in Vietnam had a strong acceleration. Catching up with this trend, Vietnam National Petroleum Group (Petrolimex/stock code PLX) promotes the implementation of non-cash payment services, increasing convenience and customer experience when transacting with Petrolimex .
Petrolimex Deputy General Director Luu Van Tuyen, Head of the Non-cash Payment Project Department, said that following the direction of the Party, Government and the State Capital Management Committee at enterprises in accelerating development solutions. In developing non-cash payments in Vietnam, the Group constantly strengthens cooperation and implements non-cash payment activities.
From the end of 2019, Petrolimex and Napas signed a memorandum of cooperation to promote cashless payments. In which, focus on optimizing customer experience at Petrolimex petrol station system by making contact and contactless card payments through Napas system; pay by QR code issued by the State Bank through mobile applications, payment intermediary services and e-wallets.
In 2018, Petrolimex signed a strategic cooperation agreement with HDBank. Up to now, HDBank is ready to cooperate with Petrolimex to deploy non-cash payment services at all Petrolimex petrol stations nationwide. At the same time, HDBank will provide other products and services for Petrolimex's ecosystem such as credit cards, loans, asset management, etc.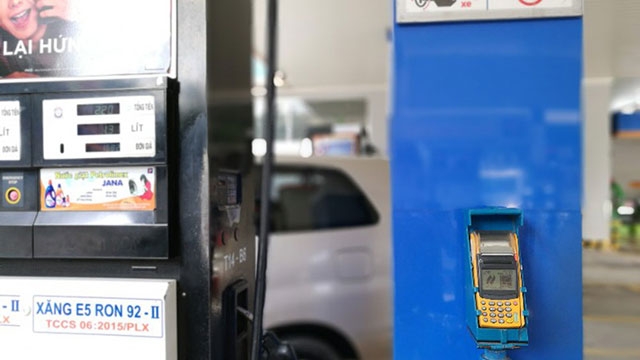 Developing non-cash payment services when buying petrol
Mr. Luu Van Tuyen said: "With the centralized automation and management system platforms available at the store, they have been deployed synchronously and uniformly throughout Petrolimex, along with the trend of digital technology development – Petrolimex completed the cashless payment project "Smart payment – companion benefits" and will launch from November 19, 2021 nationwide.
Accordingly, the program will be applied at the system of petrol stations of Petrolimex nationwide in 3 phases. Phase 1, applied at 1,043 stores in big cities and national highways; phase 2, applied at 709 neighboring stores; Phase 3 will be widely deployed to the remaining stores in remote areas.
Petrolimex's store system accepts all forms of payment via international cards (Visa, Master); domestic cards under the Napas system and Petrolimex-HDBank co-branded cards; e-wallets authenticated via QR code in VNPay alliance. With a system of over 2,700 retail stores, accounting for about 45% of the national petroleum market share, Petrolimex's promotion of non-cash payment is a steadfast step towards its goal of developing a modern civilized petrol station system. , improving service quality, supporting customers to make quick and convenient payments, contributing to promoting the development of non-cash payment methods in Vietnam.
"Petrolimex will also continue to research and integrate services and utilities for online payment and sales via App so that consumers can enjoy the most optimal utilities," emphasized Mr. Luu Van Tuyen.